Living in Colorado, I'm surrounded by people who have clocked in thousands of hours of time running. While I won't be running a marathon any time soon, I do enjoy adding running into my workouts, and I've been curious about one particular subset of activewear: base layer clothing. For my post this month, I decided to make a mini collection of wool base layer clothing.
Wool Base Layer Activewear
First off, base layers are snugly fit garments you wear next to your skin that help wick away moisture and keep you warm in cooler weather. Lighter weight base layers like the ones I've made for this collection are perfect for variable conditions. The idea is that it's better to add multiple lighter layers vs. a few heavier ones. This way you can easily remove or add a layer when the wind kicks up or you get too warm. A couple months ago when Fabric Mart had this wool/bamboo/spandex jersey available, I knew it would be perfect for a base layer system.
Fabric considerations
There's lots of fiber options you have when considering base layers. All of these materials are wicking and breathable, meaning they will absorb sweat and help it evaporate so you don't feel like you're wearing a plastic bag. In addition to this wool (merino is king!) and bamboo are naturally odor-resistant. Silk is comfortable next to your skinbut not as strong as other fibers. Polyester is the most commonly used fabric for base layers since it is breathable, wicking, and is fast drying. Nylon is also a really good option because of it's quick drying properties. Polyester and spandex also often have added spandex which makes for snug layers that still allow you to go capering up a mountain comfortable. Although the wool/bamboo/spandex I used is now gone, check out Fabric Mart's selection of
activewear fabrics
. I particularly like
this nylon/lycra
. The dozen or so people I pass running on the way out our neighborhood every morning would be thrilled to have such hip base layers made from this!
Leggings
To start, I made a pair of leggings with Ottobre 5-2015-14. The two piece back is a really nice option for colorblocking. I used my coverstitch to highlight the interesting seaming which also helped flatten all of the seams and make them so they don't chafe on long runs. I had to shorten the length by an inch and I gave myself a little extra room at the knees, but other than that, these sewed up really easily.
Crossover back keyhole tank
I've been seeing this kind of crossover back with a keyhole for a while now. For the longest time I couldn't figure out how you could get both a crossover AND a keyhole until I saw this Addidas tank.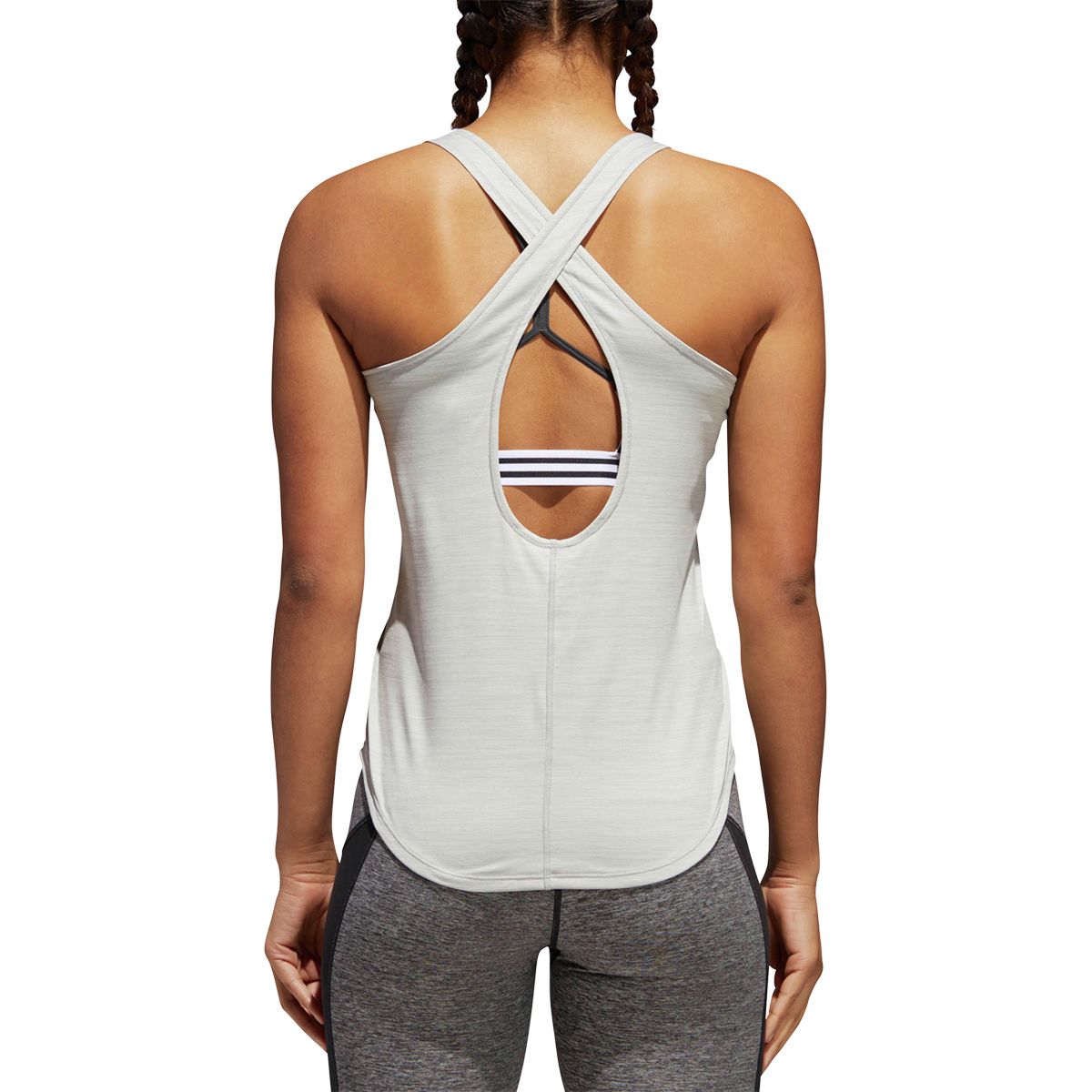 That center back seam is how you get the crossover to work! Starting with
Blank Slate Patterns' Texana tank
, I first traced off a full size back. Working with a French curve, draw a line from the left neck edge down to the base of the right armscye. Next from the left shoulder edge, draw another line roughly parallel to the first one that ends at center back in half of a keyhole shape. The bottom of my keyhole is 10" from the base of the neck. Add a seam allowance below the keyhole at CB and cut away the left side of the back to the left of the lines you've drawn. Also cut away the right shoulder area above the first line. This is your new back piece.
To construct it, cut 2 back pieces and sew them together at CB. Crossover the long straps and sew the shoulder seams. To bind the neckline, cut a very long piece of binding 1.25" wide. I needed close to 40". The neckline and the crossover pieces are actually the same thing, so the neckline is bound in one long mobius strip. Stitch the folded binding to the wrong side with a 1/4" seam allowance. Flip the binding to the right side, covering the stitching line. To finish up, either use a narrow zigzag (.5 width, 2.5 length) to stitch down the binding, or a coverstitch threaded with 1 needle.
Quick sports bra clone
It's become popular in activewear to have open back designs. For cooling purposes, they're really nice, but on a practical standpoint, you have to be okay with your sports bra being on display. I have a high impact bra from Enell that I love for running, but for this project, I wanted to make something a little more decorative. To do this, I cloned a basic sports bra. The base bra is nothing fancy, but it does have some interesting seaming (well, the illusion of it since it's actually seamless). I traced over these lines and set about constructing a bra in a wild floral print heavy polyester spandex. All of the seams were constructed on my sewing machine, then coverstitched down flat. The back is lined with powernet, and there's mesh that lines the front pieces. The cups themselves are lined with a tan poly spandex.
All I can say is that this bra is really heavy duty. Nothing is going anywhere in this, which is an absolute must for running! The poly is really breathable--even more so than my Enell which can leave me feeling sweaty, plus I love the print!!! The only thing I might do next time is to make a CF closure with a tall row of hook and eyes like the Enell bra has.
Glove cuffs jacket
To finish off this collection, I wanted to create a lightweight jacket with this wool. I started with Burdastyle 2-2011-106 which is a basic crew neck tee. I added extra seamlines as below plus a standing collar and a front zipper so I could pull the top over my head with the close fitting neck. It took a couple of tries to get the neck right. I started with a straight piece of binding that was 3" tall in finished height. To get the neck to fit snugly, there's a large dart at CB (wider at the top of the neck tapering to zero into the neckline seam. The resulting collar piece looks a bit like a V, which looks weird, but it works! I also had to make the collar 1/2" shorter for my neck to be comfortable.
I added a layer of a cashmere knit from my stash to the collar facing to give some weight to the collar and support the nylon zipper.
Recently I came across this
elastic piping
. It's really a cool trim--it feels much like foldover elastic without the folding edge. I added to all of the added seams with my trusty piping foot. I love the reflective quality it adds. To keep everything flat, I pressed all the piped seams away from the piping on the inside of the jacket and coverstitched everything down.
Glove cuffs
Thumbhole cuffs are the worst. I've made many of them, I've tried on others and none of them work for me. The holes often twist weirdly and trigger the nerves in my thumb from holes that are too small. If the holes are the right size, they don't offer the warmth that they're supposed to.
To avoid numb thumbs, I wanted to make a fingerless glove that would offer the warmth I was hoping for without the pain. I traced around my hand and really draped a thumb piece, using ponte scraps as a muslin. I lined the actual cuffs with more of the cashmere knit, which makes for some really cozy and warm cuffs. In future, I need to refine the shape a little bit, but I'm glad to have a warm glove that doesn't make my hands all tingly.
Road testing
It's been a couple weeks since I made this combo, and I've had a chance now to workout in it a few times. I'm genuinely impressed with how the wool somehow manages to keep you warm and yet not leave you feeling like you're wearing a plastic bag. I get now why people would pay $65-110 for a SmartWool base layer--the wool is that good! That we as sewists can make our own is even better! As I run more, I'm interested to see how other fabrics work as base layers. How about you? Have you sewn your own running gear?
Sew something creative today!
~Elizabeth from
Elizabeth Made This