Hi all! I hope everyone has had a wonderful Christmas and good times with family this past month! Today I'm talking about some Winter everyday chic pieces I've made up in this cool mint boiled wool and
rose gold sequined fabric
.

Winter Everyday Chic: Boiled wool colorblocked coat
How to dye mixed fiber

When I first opened up my package of boiled wool from Fabric Mart, I knew I wanted to add something to it to enhance it's natural beauty.
I thought about applique, maybe adding lace, embroidery. While I love all of those things, sometimes simpler is better. After I had already cut out my coat and started sewing it, it hit me to colorblock it. But wait, how do you colorblock something that's one color? Enter my BFF dye.
This particular boiled wool is part polyester. It's always a challenge trying to dye fabrics with mixed fibers. Depending on what the mix is, some fibers will latch onto the dye and others might not. This can make for a really cool effect or it can be super frustrating.
In my case, I used Rit DyeMore in Kentucky Sky. I've been so impressed with DyeMore's ability to dye synthetics AND natural fibers. My dye pot has seen a lot of action in my life, and this dye has easily won the day in many cases. Dyeing polyester is next to impossible at home, but this dye just about laughs at the challenge. Because this fabric is mostly wool, I added 1/4 cup of vinegar and a squirt of dish soap to my dye bath. Both these additions help wool soak up the dye.
Dyeing cut pattern pieces
Because I had already cut my pattern pieces, I was very careful not to agitate the wool in the dyebath or when I was rinsing it. I gently squeezed out the water with gloves and rolled up the pieces between paper towels and let them air dry. Because this is boiled wool, it's already effectively been felted, so it won't shrink on you like other wools, but better safe than sorry! You can see the Kentucky sky is a really subtle addition to the lighter wool. It makes for a tone-on-tone look.
While this particular boiled wool is now sold out, there's still this
grey boiled wool
. You could make some really cool colorblocked effects with the grey: navy + grey, purple + grey, hot pink + grey. If you love grey, seriously consider it, and if you want help with the dyeing process, you can absolutely hit me up for help elizabethmadethis@gmail.com!
Extra details
The pattern itself is Burda Easy Fall/Winter 2014 1C.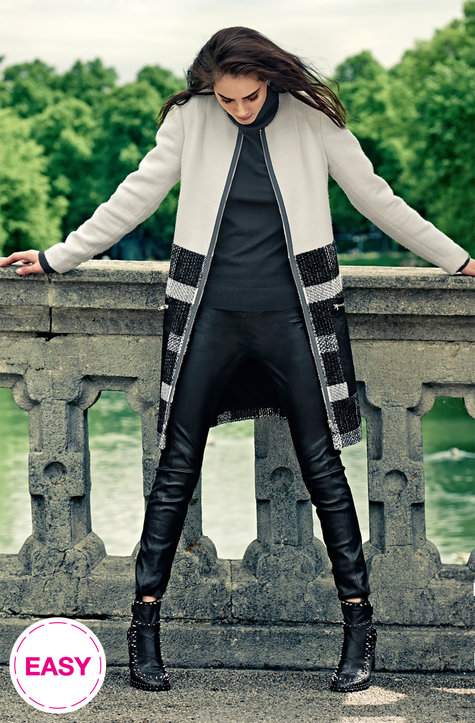 I love the giant zippered patch pockets which I made in a sueded scuba. The same scuba trims the zipper and binds all the edges.
suede binding hand sewn on the inside to finish the zipper
According to
More Fabric Savvy
, you should nix linings and facings in favor of bindings with boiled wool because of its thickness. Definitely the seams are very thick, and I pressed all of them open and topstitched them down from the right side. It's a simple finish, but it keeps all the heaviness in check well.

For fun, I made a little tassel for the zipper with scraps and a tiny D-ring.
Styling this:
This is the kind of coat I love wearing for winter on not too cold days. At first I wasn't sure about this being collarless, but in reality, I love wearing huge scarves in winter, so a collarless coat keeps me from being a stuffed sausage.
I'm wearing it with motorcycle leggings and some sneakers, but you could add any boots and jeans or even pencil skirt and tights.
Mom confession: I drive my kids to and from school and at this juncture, that means I'm out of the house 3x a day in really odd intervals. I may or may not be in pajamas for at least one of those trips, so a coat like this means I can be a total schlep and the other carpoolers will be none the wiser, LOL!
More Winter Everyday Chic: sequin cardi and skirt

I'm not a bling girl! The sparkly elements in my closet are pretty much relegated to simple jewelry, yet I jumped at the chance to work with this rose gold sequin fabric. Two things sold me--the scalloped edge and the tiny sequins. So here's what I did with it.
Starting with the Itch to Stitch Lisbon cardigan, I cut the cropped version out of a gold/wheat jersey from a RTW tee. The jersey was a good match for the sequins and it wasn't too stretchy or thick. From the sequins, I cut a right front piece and the right half of the back plus a shoulder cap piece that I freehanded. To finish off the lower edge of the cardigan, I added the decorative scallop edge from the fabric.

The sequins are underlined with the jersey on the front and back, and the CB as well as the bottom edge of the shoulder piece are turned under and pressed with Steam-A-Seam. I was really surprised that the sequins were so easy to press. The edges that aren't in the seams as well as the right shoulder seam are topstitched into place. With a #14 stretch needle, I had no issues with sewing right through the sequins. No busted needles, no taking sequins out of the seams!
Sequins everyday
It might seem odd to only have sequins on one side, but it's actually pretty practical for me. Being a violinist, anything that touches my left side really needs to be not itchy/scratchy. With the sequins just on one side, I don't have to worry about damaging sequins as I play or accidentally scratching my violin. I've been loving having this cardi during my violin lesson teaching!
I've been wearing it mostly with this ivory tee and jeans, although I've paired it too with a denim jumpsuit and some knit dresses.

Because I hadn't used all the sequins up, I decided to make an ensemble for my daughter, who unlike Mom, is a true glitter lover. I made a simple short circle skirt and used the rest of the scalloped edge as the hem. The second, longer tier of the skirt is from a striped cotton spandex. With a matching tee and star sequin applique, this is totally how my baby girl would be dressed EVERY. SINGLE. DAY. if she had her way!

What are you sewing up this winter?
~Sew something creative