Browsing the site (as I do most days!), I came across
THIS
beautiful Maggy London cotton jacquard with an interesting border and just had to have it. Initially I was thinking drawstring-waisted casual pants, but Julie let me know that the hand was a bit stiffer and better suited to a more structured garment.
Look at that texture and vibrant color!
I decided to go with a simple, boxy jacket and let the fabric do the talkin'. I went with this unlined jacket from the 2/2015 issue of Burda magazine.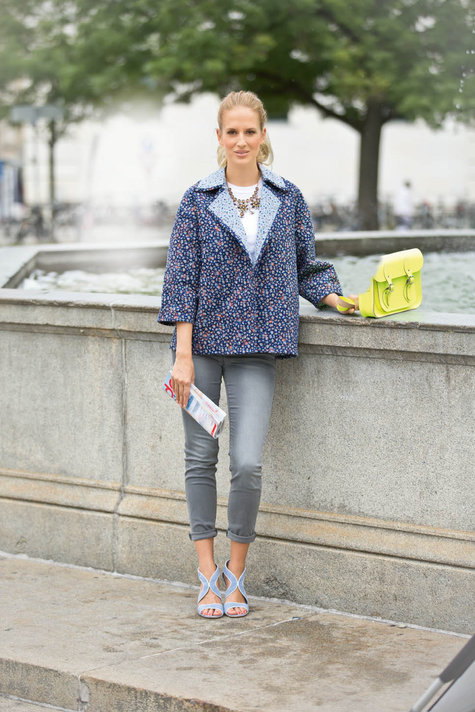 It is a very simple jacket as it doesn't even have facings. They recommend fabric with 2 good sides (be it the same or contrasting) for this reason.
Now, this is Burda so we aren't going to talk about construction. Sigh. It took quite awhile for me to figure out the vent on the back. If you make this beware that there are different cutting lines for the left back and right back due to the vent. (Don't ask)
Next, I have absolutely no idea how I was supposed to sew the collar. I tried a few different times and decided I didn't like it as much with both lapels and collar showing the wrong side so I went with a bias tape finish.
I cut my fabric on the bias to account for seam allowances and a 1/2" finished width. I sewed it as one would exposed bias tape - meaning I sewed the tape to the WRONG side of the fabric and then pressed the other folded edge in place over the stitching. I then topstitched the bias tape from the right side. I like it!
Front was turned in 1/4" and then another 1/2" and topstitched. This fabric takes a press so nicely!! I used a press cloth when pressing the black part so I wouldn't cause a shine.
As it's still very much winter in the tundra, I had to settle for so-so photos.
No one in my family liked the finished jacket -- good thing they don't have to wear it! :) I love, love, love the fabric and it really stands out.