Lets talk about this fabric...it's peachskin...peachskin is made from a polyester but has a soft, suede-like surface. It doesn't have a nap and washes and dries beautifully. Every peachskin I have used has been opaque and I don't need extra undergarments (slip). BONUS!
For my September post, I knew I wanted a maxi that I would be able to wear in the early fall and possibly winter if I wore it with a sweater or jacket. The colors in this fabric are so rich and screamed fall to me! This was on the website and is a designer dress fabric, but it's gone...probably since it's so lovely!
Here is the pattern I used, if you are interested: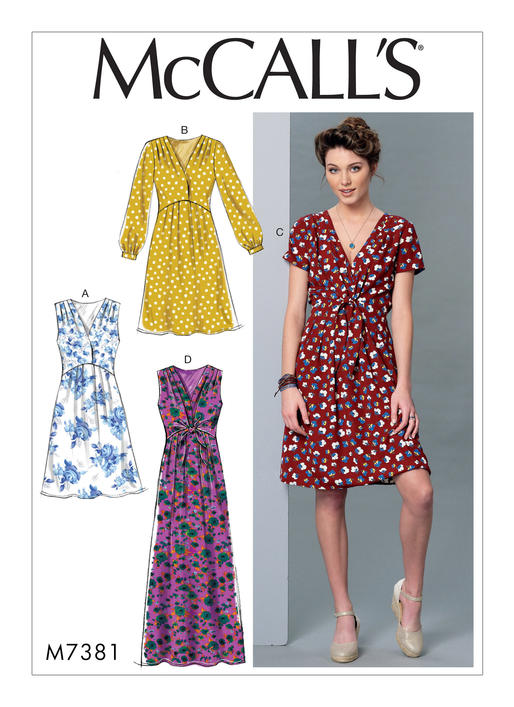 Image from Sewing Pattern Review. I knew I wanted the maxi length and those cute little sleeves from view C.
Here is my version:
Wow, do I love maxi dresses! This fabric skims over your body. It doesn't cling, isn't full of static, and drapes so nicely.
This design is simple, and lets the pretty colors and the slight sheen of the fabric really shine!
See what I mean? No clinging. It hangs straight and parallel.
I love the shaped waistline on this dress, high in the front and at waist-level at the back.
This fabric sews well, washes well, dries well, and irons well. What more can you want?
The pattern doesn't call for buttons on the front wrap, but I added them for fun.
I really love my new dress in this pretty designer dress fabric. If you've never shopped the designer dress or designer fabric section before, what are you waiting for? There are so many awesome finds and they never disappoint!
Thanks for reading!
Sue from Ilove2sew!