I am getting tired of winter. It's lingering. It's cold. I need spring. I need new clothes. Ok, done whining!
I needed some basic colored tops in some not so basic shapes. These two fit the bill.
The ivory is a Linen/Cotton/Rayon blend. Pictures don't do the fabric justice. It has a lovely shine and drape. If you've never checked out Fabric Mart's linen section, you need to! The fabric is so pretty, is high quality, and never disappoints me.
For this top, I choose a simple design with some on trend details such as a ruffle--I may be too old for a ruffle, I am still wondering if I should remove it, and sleeve details.
I modified the sleeve a bit and left them as slits that close at the bottom of the sleeve.
The pattern is Simplicity 8694. Super cute with fun options.
I made a modified version of A. I needed some short-sleeved patterns that are not tees. This works.
For my dark top, I choose chambray. Whenever FM has chambray, I try to snatch some up. This one is so lovely and such a wonderful quality!
For this top, I choose a French pattern company called Oraguese. This is the Helsinki Blouse. I've noticed that FM is choosing to carry more Indy and foreign pattern companies.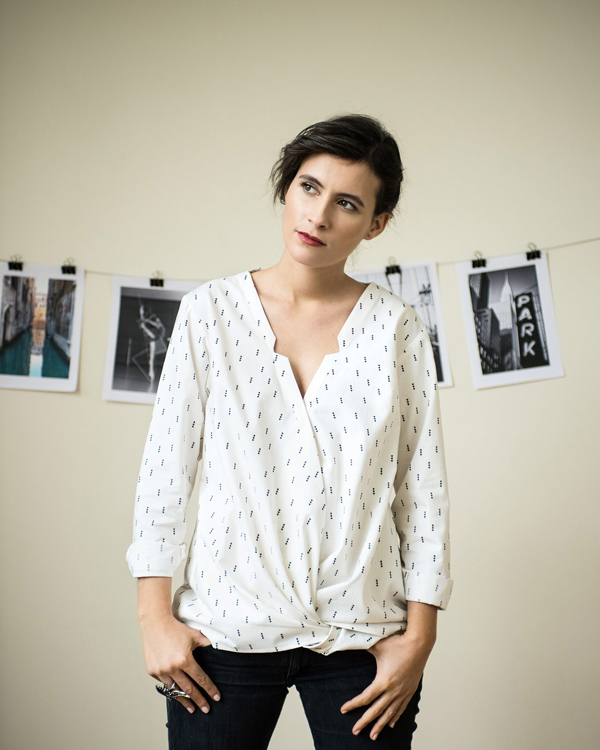 This is a very on-trend pattern. I love everything about it! This pattern calls for a shirting, and the chambray fit the bill perfectly. If you can't tell, I really love how this turned out!
I am gearing up for spring by getting my sandals out for the photo.
This pattern looks interesting from all angles.
The knot makes this so cool.
And a picture of the back.
I hope you are gearing up for spring as much as I am.
Thanks for reading!
Sue from Ilove2sew!