Happy Fall Everyone!
Where I live, we typically have a beautiful fall, except for this year. It's pretty much been non-existent but that hasn't stopped me from making some fall tops in trendy colors.
For this months post, I knew I wanted to use Olive green and I knew I wanted a cosy knit. I found this lovely fabric in the ITY knit section. Isn't that color so pretty?
Yes, I am back to indoor photos. It was just above 30 degrees today and the wind was howling.
I make a lot of flat pattern measurements before I start. With this pattern, I knew it would be snug across the back shoulder area, so I widened that area for a total of an inch. This is a typical adjustment for me when I use StyleArc patterns.
I spend a lot of time on my necklines and hemlines. I used this notion from FM's site:
SewkeysE-White-Fusible-Knit-Stay-Tape-Interfacing
. It's sold in various widths and for necklines I use 1/2" tape. I also used 1/2" on the hemlines. Simply fuse the tape, stitch the neckband on, turn, and topstitch.
This knit is so soft and it behaved so well when I was sewing it together.
The pattern I used is the Oakley Knit Tunic from Style Arc. I thought it would be perfect for this fabric. I think it was a very wise choice!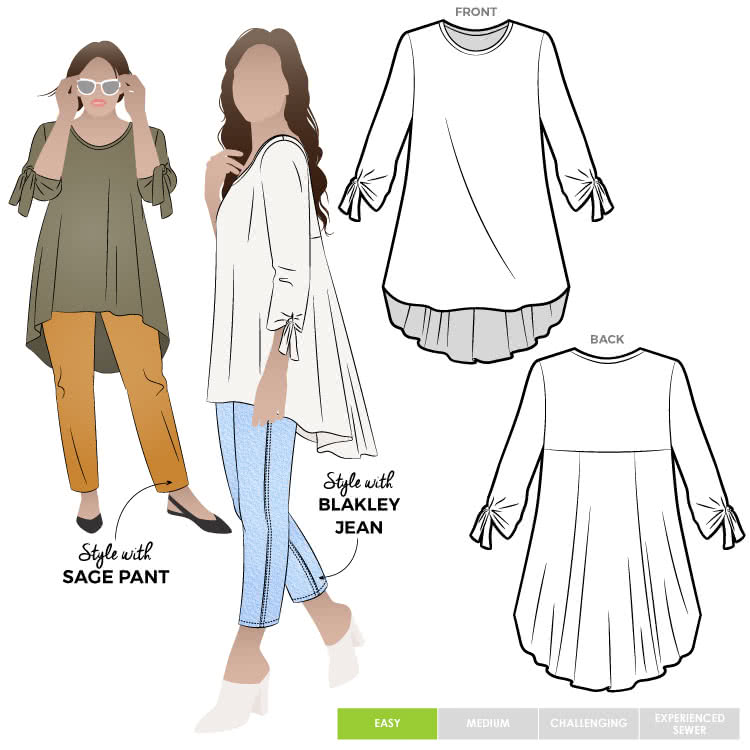 This went together fast and I love the style of it. It's perfect for an ITY knit, and those sleeves! Aren't they clever? They are simply a button hole with a tie that goes through it and is tied. So simple yet so fun.
This top deserved a fun and colorful scarf, so I used a fun knit stripe to make one.
Here's a link to the fabric:
crochet knit
This project literally took less than ten minutes. Cut a piece of fabric the width of the fabric and about 1/2 yard wide (at least).
Sew the short sides of the piece together with right sides together. Next, sew the long edges together leaving about a 2" opening.
Flip the entire thing right side out and stitch the opening closed. That's it.
I love my new top and scarf!
Thanks for reading!
Sue from Ilove2sew!