When spring rolls around, I go for pretty and stronger colors than I typically wear in the winter. When I saw
this designer denim from Leslie Stuart
on Fabric Mart's site, I knew exactly what I wanted to create and wear!
It is such a pleasure to sew with good quality denim and even more awesome to wear!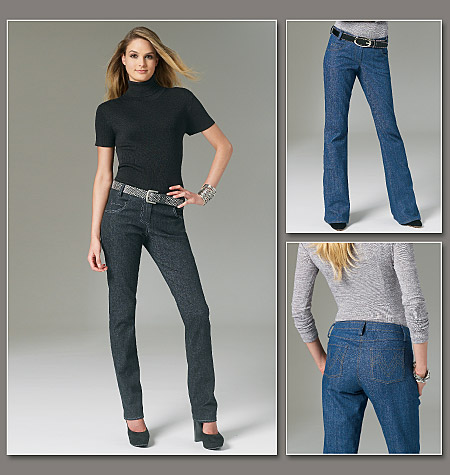 Vogue 8774
is my favorite TNT and I've made it so many times my pattern tissue is showing a lot of wear even though I am super careful with it!
What I love about revisiting an old friend is that you get to truly play with the details and while I wonder about what else I can do to perfect it, I still think this pattern has a ways to go fit-wise but overall, I am very happy with my orange-y jeans! What a happy color!
When prepping my denim, even when I use a good quality denim such as this, I wash and dry it twice before cutting out. Have you ever bought a pair of jeans that were the perfect length and you washed, dried, put them on an disaster struck--the length shrunk! How irritating!
To prevent that, I wash and dry before cutting and also before hemming, I wash and dry one more time, just to be sure and I've never had an issue with my pants being too short again! Hooray!
This denim has a bit of a stretch that makes them ultra comfortable to wear but one hazard of sewing denim with stretch is that the top-stitching details can cause the denim to slightly pucker. To alleviate this, I use seam tape at the yoke seam and also the front pockets. The denim keeps its shape and after stuffing your hands in your pockets a billijion times, they don't sag or droop at all! I just love sewing tools!
I wanted to add a few more details and decided that the orange bias tape from my stash would work perfectly to edge the pockets.
This is a higher end detail but also functional as it reinforces the pocket bags so they never split. And, to make the waistband less bulky, I didn't turn under the seam but edged it once again with the orange and then the top-stitching at the waistband is holding it secure.
My alterations on this pattern have been pretty numerous. I first started with a 1/2" swayback adjustment which I made on the yokes. I rotated the inner leg seam to the back so everything hangs nicely and took a wedge at the front crotch area to eliminate those annoying wrinkles. I lengthened the pants by about 1.5 inches and also took a fish-eye dart at the back upper thigh area. I still have a bit of wrinkling there but will live with it as I don't want to 'over' fit.
I also decided I wanted a bit of a slimmer fit for these and took the side leg seams in about 1/2" on each side of the leg.
Glam is a fun addition and I found the Swarovski crystals in my collection and had just enough to add to the front pockets! How fun!
I also used variegated thread for top-stitching in white, yellow, orange and a coral color. I plan on using variegated thread more often for decorative top-stitching as it adds an element that is a bit different.
Not sure if you can tell or not, but I love my jeans! I love this pattern and if Fabric Mart has more of this denim, snatch it up!
Check out their Denim collection here.