The minute I saw this pattern from Anne Klein for
Vogue 1499
, I knew I had to make it! I love the lines, I love it in a stripe, and I really think it is a classic style calling for a classic fabric. Nothing screams summer like seersucker!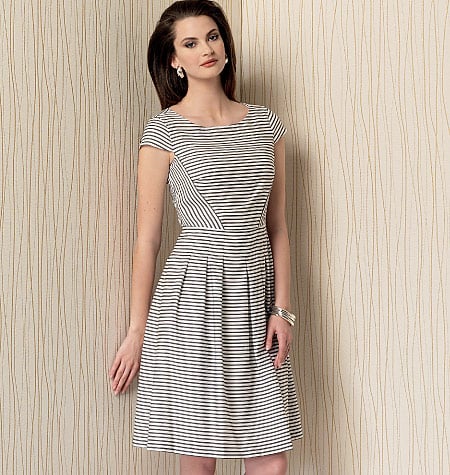 You can play with how you lay out this pattern based on how you want the stripes to run. I choose to vary my slightly from the pattern suggestion by making the back center bodice stripe run up and down, rather than side-to-side.
I choose to use this beautiful Maggy London seersucker fabric for my dress.
This photo was copied directly from Fabric Mart's site. It is 100% poly and is 63"' wide. It so and pressed very well. You can see it
HERE
.
We had to take the photos indoors as it was pouring outside. My dog, Lucy, loves to help when it comes to sewing photos.
I really didn't deviate from the pattern too much. A few times I sewed on the machine rather than hand stitching. Some days I love to hand sew and others, well, I will think to find a work-around!
This dress is super comfortable in this fabric. It is also lined, and that fabric was also purchased a while ago from Fabric Mart.
I love the cute little sleeves. Did I mention I am very happy with the fit of this dress?
Thanks for reading and I do hope that you are making some great garments for this hot and very humid summer we are having. If you live in another part of the world, I hope you are looking forward to summer and planning your warm-weather wardrobe!
Thanks for reading!